Fresh food and cool drinks at Tam's Cafe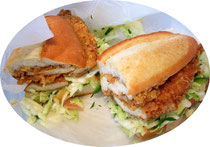 Tam's Cafe offer you fresh Vietnamese food and drinks. All of our food and drinks come directly from the fresh market in town.
Highlights:
Banh My is a well known Vietnamese  food with French baguette (Banh My) and a wide selection of stuffings such as Chicken, Fish, Ham, Eggs and Vegetables, all locally made and fresh.
Local specialties of Vietnam such as Springroll, Mango Salad, Noodle and Pork, Fried Rice, Rice and Chicken, etc. are also available.
With the vicinity of local fresh market, Tam's Cafe is able to provide a thorough menu of tropical fresh fruit and fruit shakes such as banana, mango, avocado, watermelon, pineapple, etc.
Khe Sanh Arabica, the famous home grown coffee, is offered at Tam's Cafe in various ways, Vietnamese and international styles. Additionally, our cold drink and beer will certainly satisfy your thirst in this super hot weather of Central Vietnam and our home made fresh food will be a highlight in Dong Ha city.