Helpful advices for backpackers
1. Wear long sleeved if you travel on a bike between March and September.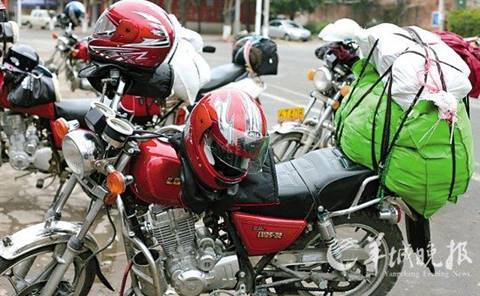 A backpacker's motorbike 
2. If you come in group of 3 or 4, you'd better choose the car as your transportation, especially when it is rainy season. This way is also more economical than motorcycle.
3. When you reach Dong Ha train/bus station,  If you are with a group, take a cab, then you can pay according to the meter and it will be cheaper than xe om (motorbike taxi). If you are alone, you can take a xe om but negotiate the price with the driver.
4. If you stay over night in Dong Ha, there are more fun things to do: sidewalk beer stands, bun cha restaurants, street coffee, riverside seafood restaurants, sinh to stand (fresh fruit mix), therapeutic massage by the blind people. Please contact Tam's Cafe for more information.
5. 1 USD is about 22,000 VND. Please be careful since you can make a big mistake between a 20,000 dong note and 500,000 dong note. To be safe, you should break down the 500,000 note into smaller ones.
6. If you come to Dong Ha by Tet (Vietnamese New Year), you'd better have some friends that will invite you home. There, you will be welcome and stuffed with lots of food and beer. NO ONE will work in Tet which will last for literally half a month.
7. Buy a cell phone while traveling in Vietnam. Phone is cheap, about US$20-25 and then you can just buy minutes. It can be your rescuer in many situations. It may end up having you spend US$50 but you will find how helpful it is, especially when you are a lone traveler.